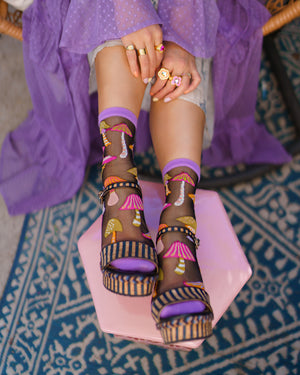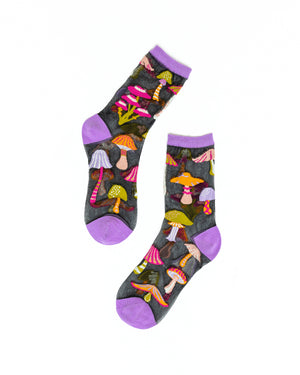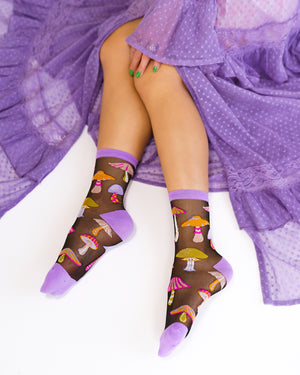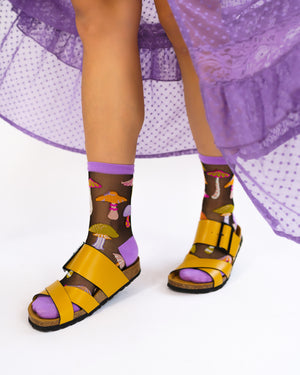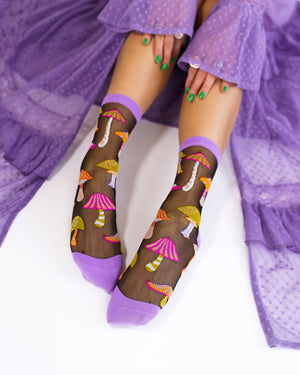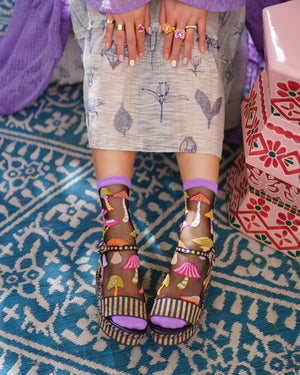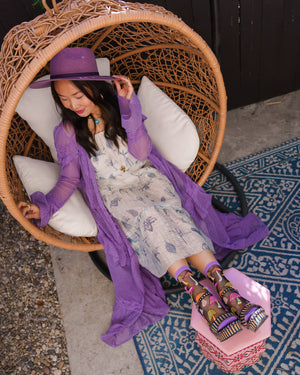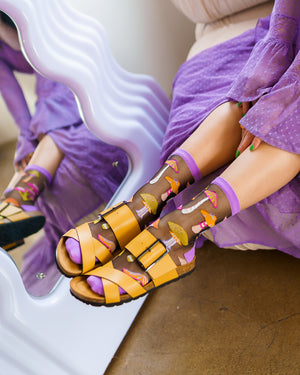 Magic Mushrooms Black Sheer Crew Sock
AVAILABLE IN 2 SIZES: US W5-7 or US W8-11. Please select your size in the drop-down menu below. If you are in between sizes, we recommend sizing up. 
We don't want to brag, but these are the cutest mushrooms you'll ever wear on your feet. Channel your inner boho queen and add a dash of whimsy to your look with our mushroom socks, set against a black sheer fabric for a mysterious vibe. 
200 Needle Count.
✨ Funky yet elegant - no silly or childish patterns 
🧦 Premium quality - durably made with comfortable stretch
👗 Unique - the perfect accessory to add individuality to your outfits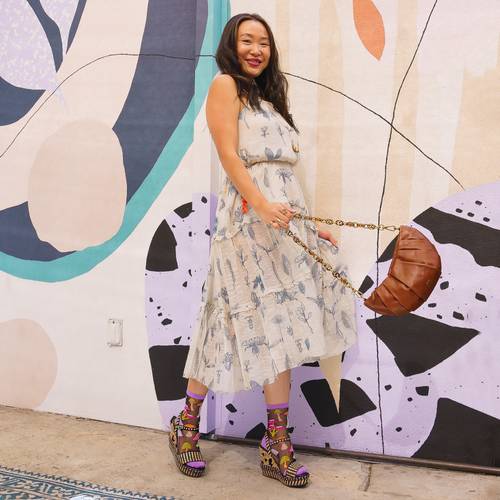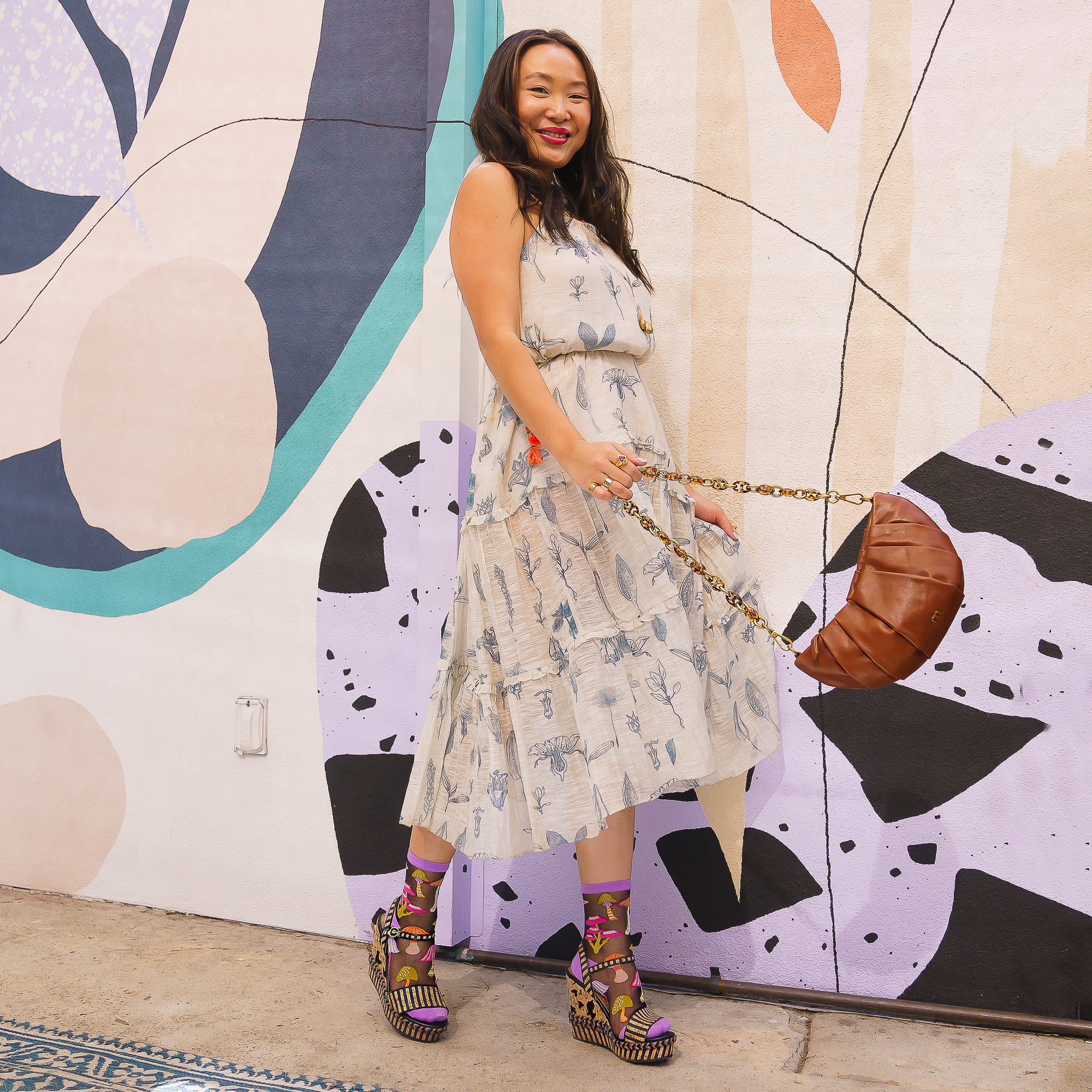 Pair with a maxi dress and wedge sandals for a relaxed boho look.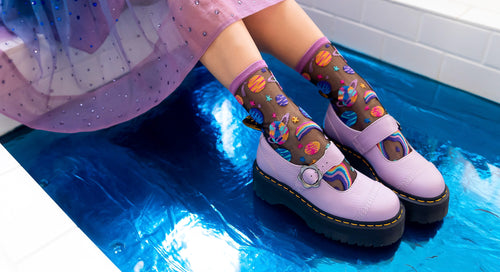 Unconventional is Beautiful
Our one-of-a-kind fashion socks break the mold in quirky prints and bold colors, designed for people with the courage to play by their own rules.
Learn More
My teenager keeps trying to steal them!!!
Love them. The pattern, the colors, the workmanship…all fabulous. Will definitely get more!
Super fun and well made
I get tons of compliments when I wear these. I have a size 11 foot and I agree with one of the reviewers below that it was a bit of a tight stretch! I have narrow feet so it worked for me but if I had an average size 11, not so sure. It pulled a little down on the length to fit my foot so I'm sure they are even cuter for all you lucky ladies with smaller feet. They are very well made and have survived multiple times of stretching them over my large feet so far!
Ask yourself one question, are you a fun-gi or nahh?
If you answered yes your in the right place! Whether it's a chill day at the farmers market or a fun night out on the town these are the socks you need! I promise you will not regret it. I always get compliments/ inquiries about where I get my lovely socks from. So many people I know have bought the same pairs I have (yes, plural..PAIRS). The pattern / colors are so cute! How could you say no?
Cute socks, not big feet friendly
I ordered these in the size 8-11, I wear a ten. if I were an 11 I don't think these would fit. They're comfortable, but definitely stretched to the max and I worry about breaking them while trying to put them on.
They're extremely cute though and seem well made. Definitely would recommend to my smaller footed friends
So so good
I'm delighted with my purchase. They are so cute and fun to wear. - even a little daring. I paired with a fancy dress for a ladies luncheon and turned a lot of heads ; ) My one wish is they were a little longer, like mid-shin instead of high ankle.