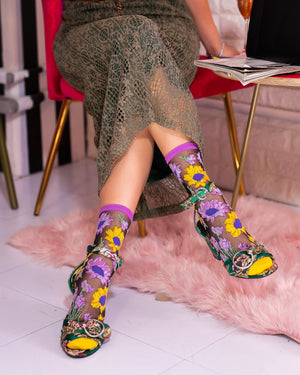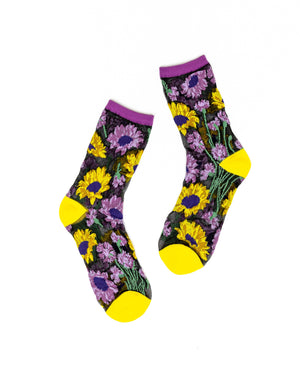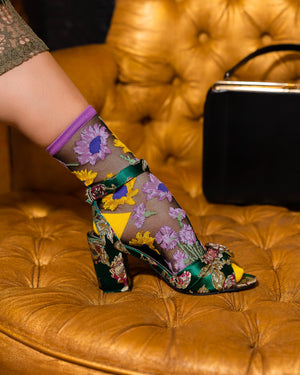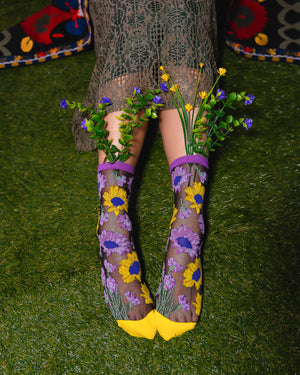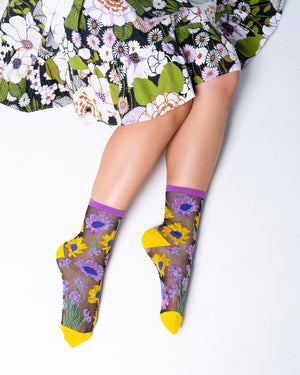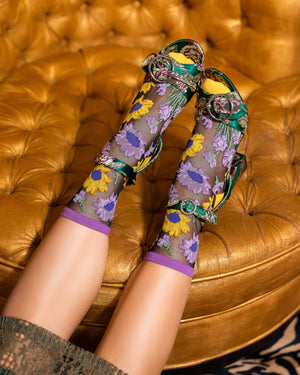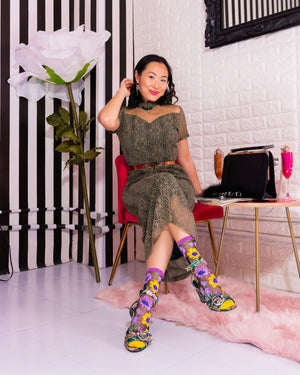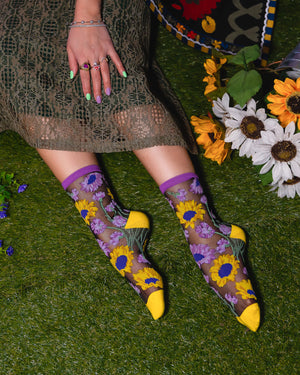 Mixed Sunflowers Black Sheer Crew Sock
For all your fancy occasions, our transparent black sunflowers sock is your new go-to for pairing with dresses and heels. A mix of bright yellow and muted purple sunflowers give this sock a pop of color with an undertone of elegance. Set against black sheer fabric for the perfect nighttime accessory.  
One Size. Recommended fit US W5.5-10. 200 Needle Count.
✨ Funky yet elegant - no silly or childish patterns 
🧦 Premium quality - durably made with comfortable stretch
👗 Unique - the perfect accessory to add individuality to your outfits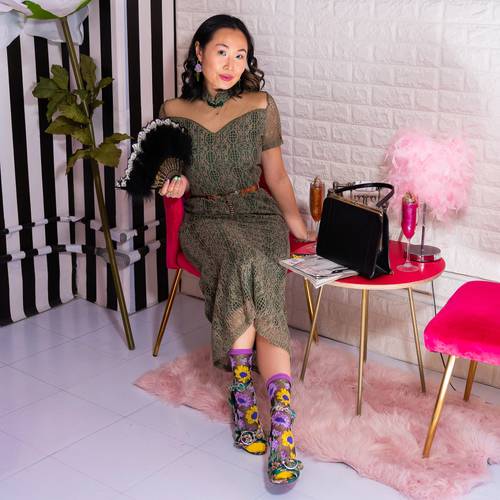 Be the talk of the party by pairing a classic dress with our funky yet elegant black sheer sunflower socks.
Unconventional is Beautiful
Our one-of-a-kind fashion socks break the mold in quirky prints and bold colors, designed for people with the courage to play by their own rules.
Learn More
love these- look as good as all the photos if not better 🙏🏻 i'm hooked
So cute!! I wear a size 6, these will not fit me. I will gift them.
Beautiful
I have 6 pairs of sock candy socks all delightful. I am often complemented of these socks and asked where one can buy them. I would like it if there were a few pairs available which were slightly higher (not knee high). Ozone socks sells a few sheer designs which reach the bottom of the calf. This is a nice height to wear with slacks.
Perfectly designed the quality amazing!!
Everything is perfect. These are actually eye candy! Love them❤️