Sheer Socks Bundle 2
The Sheer Socks Collection Bundle 2 includes three of our cottagecore inspired sheer girly socks:
Retro Sweets Sheer Crew Sock
Candy Stripe Ruffle Crew Sock
Ribbon Roses Sheer Ankle Sock
Individually priced at $18/pair, save with the bundle at $50 for all 3 pairs!
One Size. Recommended fit US W5.5-9.5 (can stretch to fit up to size 10). 200 Needle Count. 
✨ Funky yet elegant - no silly or childish patterns 
🧦 Premium quality - durably made with comfortable stretch
👗 Unique - the perfect accessory to add individuality to your outfits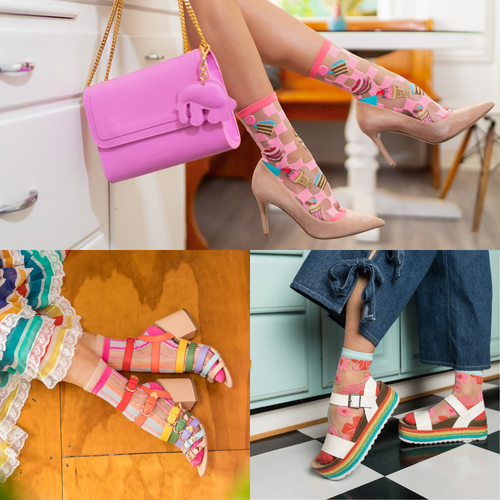 Our sheer girly socks are just what your outfits need to complete your look from head to toe.
Unconventional is Beautiful
Our one-of-a-kind fashion socks break the mold in quirky prints and bold colors, designed for people with the courage to play by their own rules.
Learn More
just beautiful!
I love the sock candy socks! The patterns and materials are durable and so very pretty. I love wearing them and they are now my favorite go-to socks.
Sock it to me
I love these socks so much!!! Fashion for your feet. Feel so good. Delightful patterns. I will buy more.
Love these socks!
I bought a bunch of the sheer ones and then I went back and ordered more! I get so many compliments too!
Love these socks!
I bought these to wear with a pair of boots that have openings on the sides because my feet are just too sweaty to not wear socks. These are super cute and I haven't had blisters with them once. I get compliments all the time.
So cute!!
These socks are all wonderful and oh so adorable! They fit beautifully, they stay up throughout the day, and I've already gotten compliments. Plus, they arrived with some taffy, and I have no idea how they knew that's my favorite ;) Can't wait for more styles to drop!