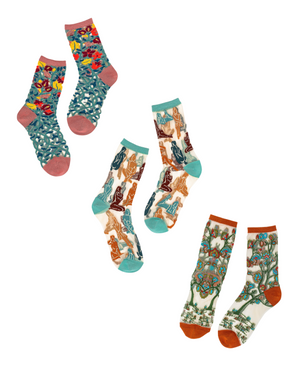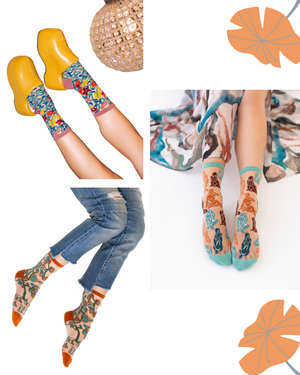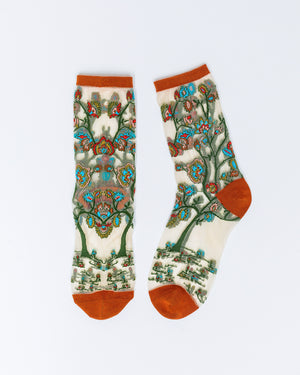 Sheer Socks Bundle 3
The Sheer Socks Bundle 3 includes three of our sheer fashion socks:
Tapestry Vines Sheer Crew Sock
Terracotta Ladies Sheer Crew Sock
Tree of Life Sheer Crew Sock
Individually priced at $18/pair, save with the bundle at $50 for all 3 pairs!
One Size. Recommended fit US W5.5-10.5. 200 Needle Count. 
✨ Funky yet elegant - no silly or childish patterns 
🧦 Premium quality - durably made with comfortable stretch
👗 Unique - the perfect accessory to add individuality to your outfits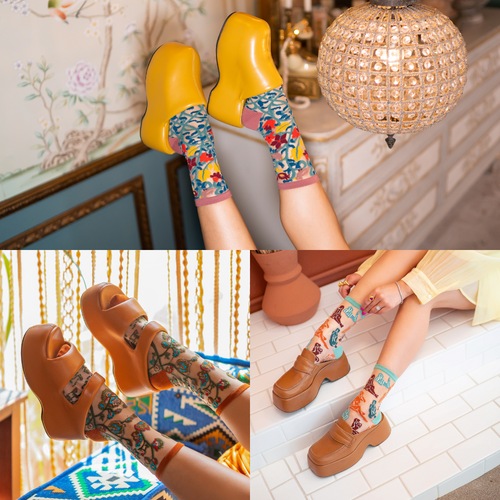 Our vintage-inspired sheer fashion socks are just what your outfits need to complete your look from head to toe.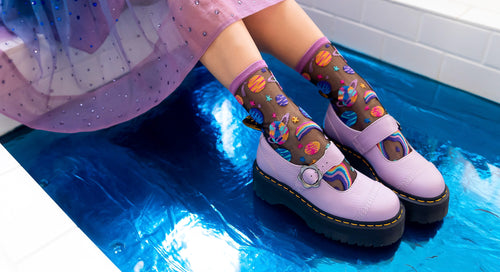 Unconventional is Beautiful
Our one-of-a-kind fashion socks break the mold in quirky prints and bold colors, designed for people with the courage to play by their own rules.
Learn More
In Love with these socks!!!
I was kinda worried about the purchase being that I have cankles. When my package arrived my fears have been cast away. Not only are the socks great quality they also fit very well. Very comfortable even with my cankles and the embroidery. Highly recommend!
STEP UP MY STYLE
These socks were exactly what I needed to step up my style..I wear my socks with pointed toe flats..The socks are do stunning I make sure to cuff my pants to show them off...I get so many compliments...even guys stop me and compliment me on my socks
Unique and pretty
I love them! I like to wear them with sandals, but it would look better if there wasn't a solid color toe and heel. Hope they make totally sheer socks in the future.
Love these
Elegant, warm, sexy. I love these socks!
Sock it to me
Beautiful cheerful designs..you WILL get compliments.
I like wearing these with summer shoes..very comfortable and not bulky.