3 Pair Mystery Socks Bundle
Want three pairs of socks for a steal? The 3 pair mystery socks bundle offers socks that are samples, have slight defects, or are out of stock for good. You never know what you're going to get, but we can promise each bundle will include at least one pair of our bestselling sheer socks.
Normally priced at $18/pair, get 3 pairs for $20 with the mystery bundle! 

All mystery bundles are non returnable and non refundable with no exceptions. 

Already have some Sock Candy? Note what you own at checkout by checking "Add a Gift Message to Order" and we will do our best not to send any repeats. If you order regular socks in the same order, we will make sure not to send any repeats in the mystery bundle. 


Kindly note that not all styles will fit the same. Most styles fit US W5.5-10. Mystery bundles can be risky, so we only suggest doing so if you are open to a surprise!
*This item is excluded from discount codes.  
✨ Funky yet elegant - no silly or childish patterns 
🧦 Premium quality - durably made with comfortable stretch
👗 Unique - the perfect accessory to add individuality to your outfits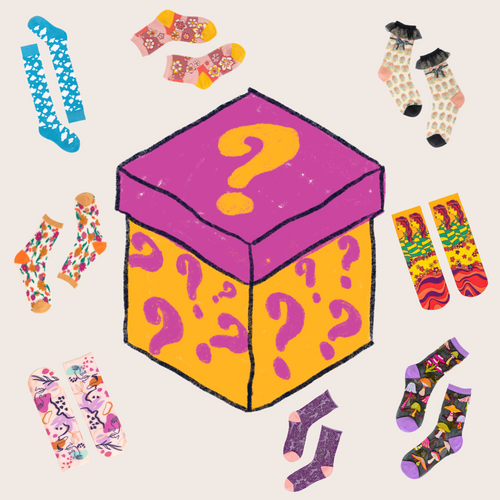 If you love socks for a steal, you'll love our mystery socks bundle.
Unconventional is Beautiful
Our one-of-a-kind fashion socks break the mold in quirky prints and bold colors, designed for people with the courage to play by their own rules.
Learn More